Dinning areas should be warm and welcoming so that you can enjoy quality time with your friends and family members. If you are looking for a few amazing dinning room addition ideas, then you should contact a professional home remodeler in your location.
If you are looking for a reliable San Ramon remodeling service, then you should contact Done Right Home Remodeling. Now, let us understand a few creative ideas to dine in style.
Revamp your kitchen by adding beautiful accessories
You can accessorize your kitchen with decorative lights to make your dinner time spiced up. You can go with ceiling-mounted lights, hanging lights, or pendant lights as per the décor of your kitchen.
Lights do add an aesthetically pleasing look to your space. So, you should not skip adding decorative lights to your space that will make your kitchen look beautiful. Adding lights can also brighten up your kitchen and make the food preparation process easy.
What about a Breakfast Room?
A new small addition on an old stone house contains a breakfast room or casual dining room leading to a renovated kitchen, plus a mudroom entrance and a basement-level workout room.
Urban Townhome style Dinning Room
You can lit the dinning room by candle light to add that golden touch to your space. This will draw the attention of your guests and visitors. You can add intriguing grasscloth wallpaper with an Asian inspired pattern and hand silk screened in a soft gold metallic color.
Additionally gold, tone on tone stripe silk drapery, and the upswept arms of the brass chandelier will help accentuate the high ceilings. This type of dinning room can be warm and inviting, and a perfect idea for holiday season.
Kitchen Island is the best solution
You can build a kitchen island that will provide you with enough storage and give your space a fresh look. It will also give you additional seating space to you.
Moreover, you can have a breakfast counter with Kitchen Island. This will increase the look of your space and spice up your dinner time. However, you need to take care of the design and the color of the Kitchen Island so that it complements the existing décor of your kitchen.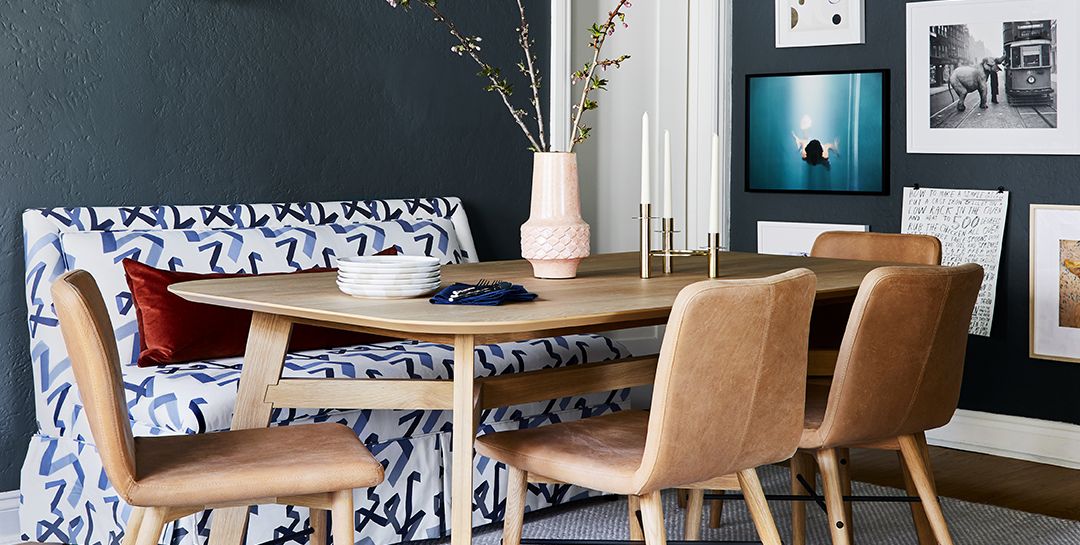 Go with a Vintage theme
You can go with new window seats that can serve as both seating and storage units. Add thick new moldings for architectural interest and dark hardwood floors that can provide additional warmth.
You can also go with the vintage chandelier to add spark of color and interest. Solid wood dining table can provide an interesting mix of geometric shapes, styles and textures. Introduce sisal rugs on the floor to enhance the look of the space.
Allow natural light into your dinning room
This one-room sunroom addition features both an existing wood deck, as well as the dining room inside. You can replace the deck flooring material with composite decking to run that material into the addition to give your room a seamless transition.
You can add windows on three sides along with glass doors and skylights to allow natural light to enter your dinning space.
Contemporary Dinning Room theme
You can go with a large contemporary kitchen/dining combo that features limestone floors, no fireplace, white walls and beige floor.
Keep your dinning room simple and spacious
Make your dinning room spacious, light, simplistic yet effective by combining a hazed glass wall to partition the kitchen. You can also add wooden floor, dining furniture, and a stunning eye catcher of the ceiling light.
Conclusion:
You can revamp your dinning room with accent decorative pieces, green plants, and vibrant colors. Add pendant lights to introduce luxury to your dinning space. You can also go with comfortable chairs that will allow your guests to spend lovely time at your space.
If you are confused about the right dinning room themes for your home, then you can contact a professional home remodeler in your location.